10 Best Free Bootstrap Admin Themes 2017
---
Povilas Korop
Founder of QuickAdminPanel
We're currently working on changing front-end themes for our QuickAdmin (info coming soon), so researched the market for already available adminpanel Bootstrap themes. There's a lot to choose from – both free and premium, but for this article we've chosen the best ones that are available for free.
There is a problem with articles that list adminpanel themes – most of them are not updated. So we tried to discover most up-to-date information.
1. SB Admin 2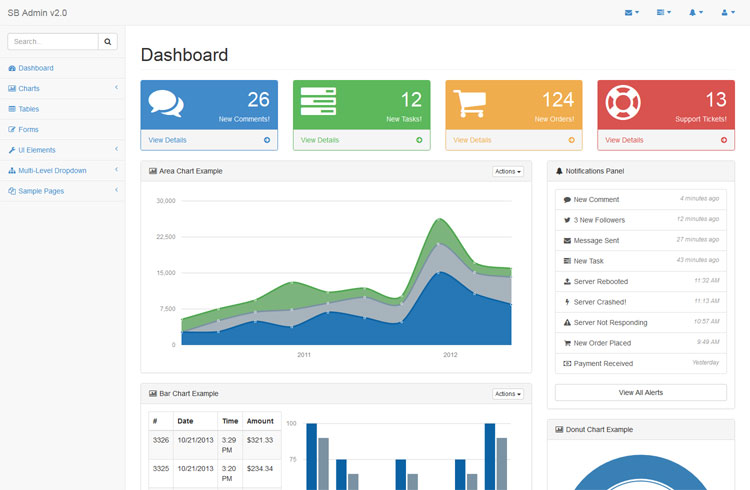 One of the most simple themes in the list, but also one of the most popular ones. SB Admin 2 Bootstrap admin theme, dashboard template, or webapp UI starter. The theme features a variety of custom jQuery plugins to add extended functionality past the built in Bootstrap UI features.
---
2. AdminLTE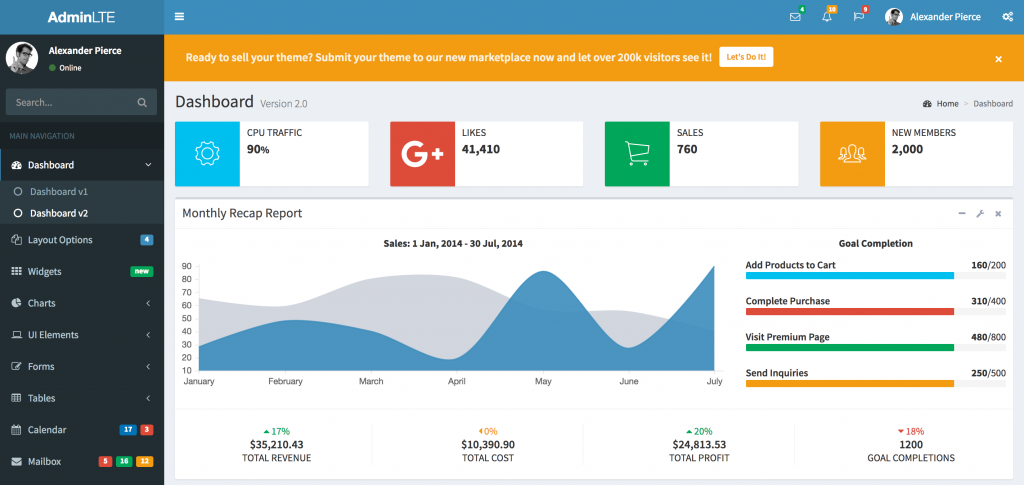 Best open source admin dashboard & control panel theme. Built on top of Bootstrap 3, AdminLTE provides a range of responsive, reusable, and commonly used components.
---
3. Gentelella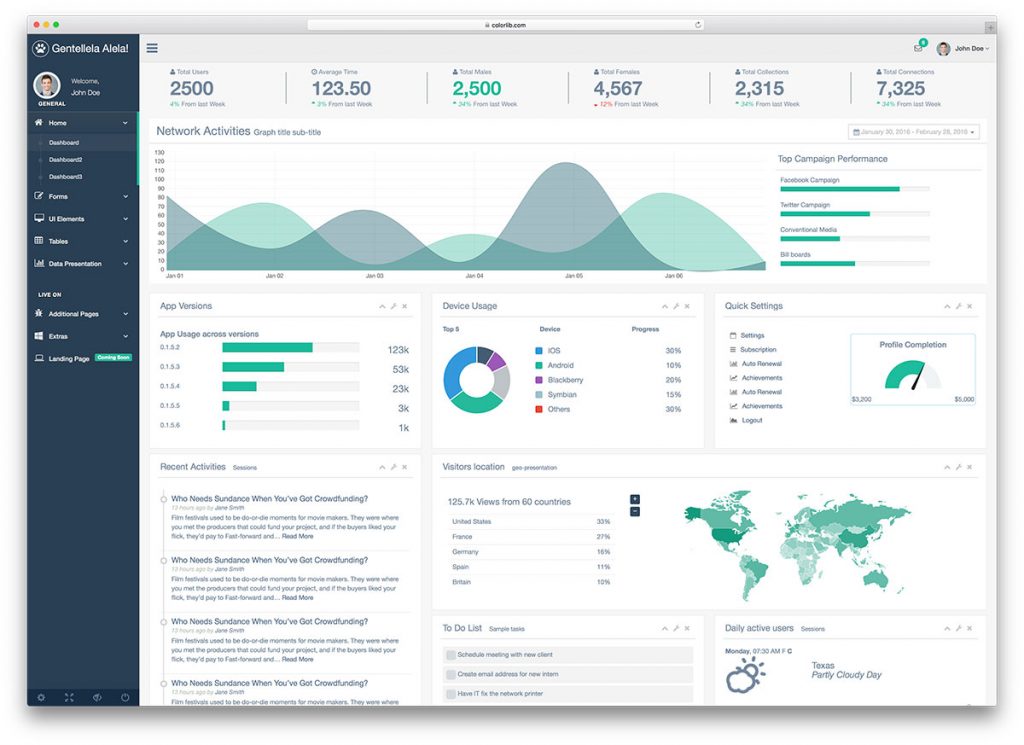 Gentelella Admin is a free to use Bootstrap admin template. This template uses the default Bootstrap 3 styles along with a variety of powerful jQuery plugins and tools to create a powerful framework for creating admin panels or back-end dashboards.
Theme uses several libraries for charts, calendar, form validation, wizard style interface, off-canvas navigation menu, text forms, date range, upload area, form autocomplete, range slider, progress bars, notifications and much more.
---
4. AdminBSB Material Design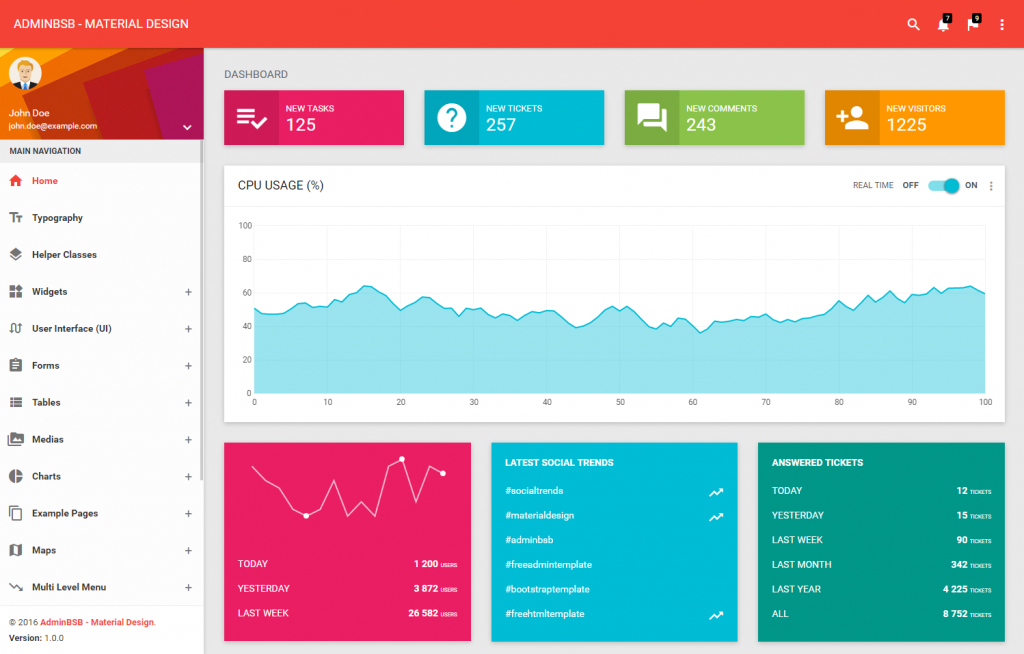 AdminBSB – Material Design is a fully responsive and free admin template. It was developed with Bootstrap 3.x Framework and Google Material Design of powers.
---
5. Modular Admin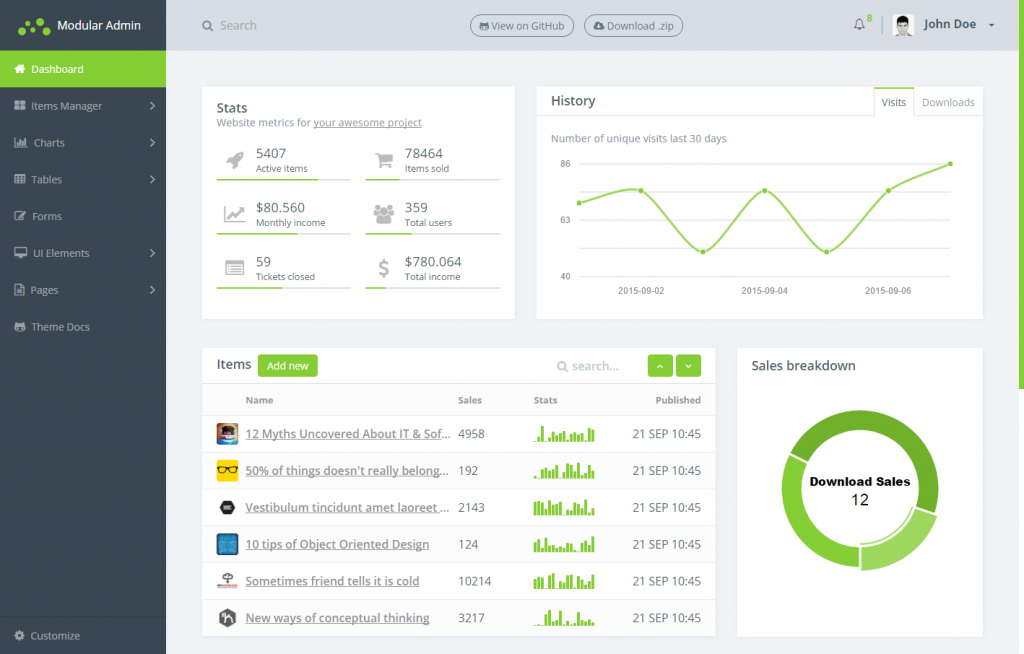 ModularAdmin is an open source Boostrap 4 dashboard theme built in a modular way. That makes it extremely easy to scale, modify and maintain.
---
6. Flat Admin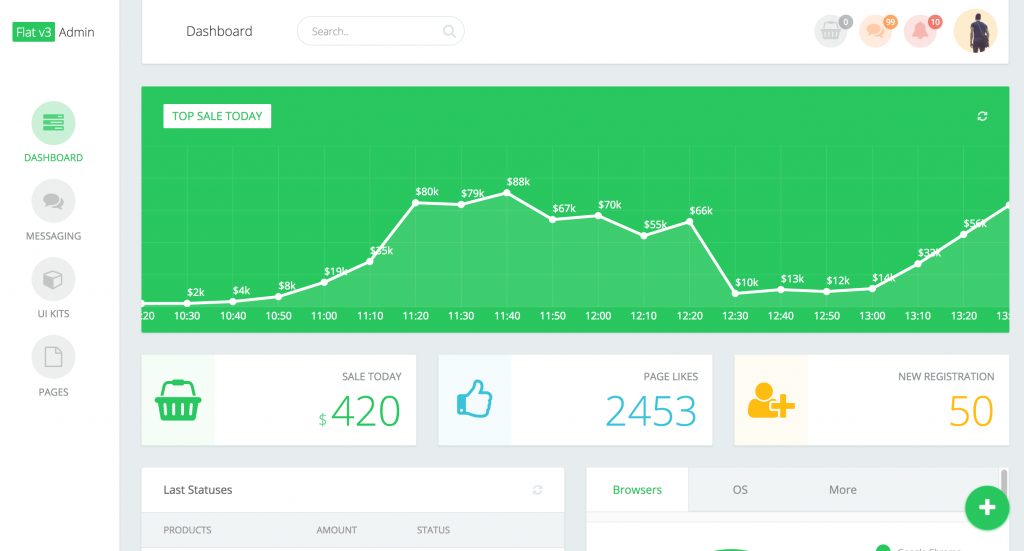 Free Flat Design Administrator Bootstrap Templates with Bootstrap 3.
---
7. TemplateVamp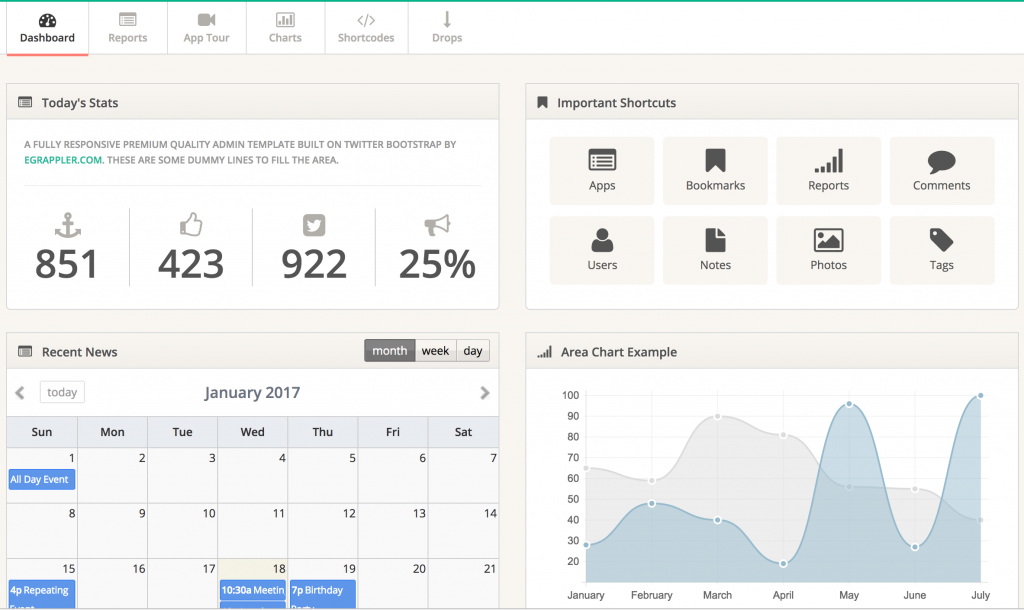 Primarily based on Twitter Bootstrap, TemplateVamp is a totally useful and customizable admin template that leverages the facility and suppleness of HTML5 & CSS3. TemplateVamp is a front-end toolkit for quickly creating internet purposes which can be light-weight, quicker, and mobile-friendly. Really an amazing place to begin.
---
8. CoreUI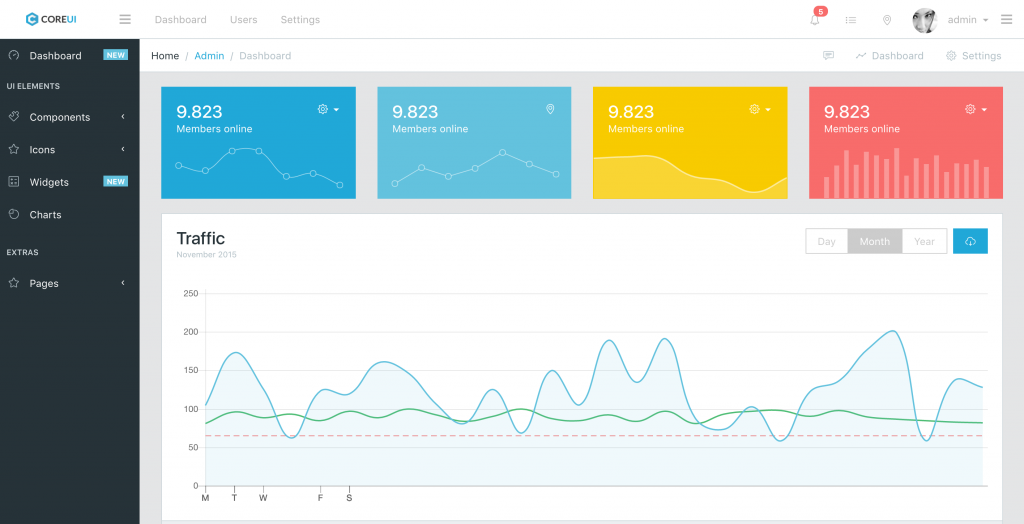 The only Bootstrap Admin Template you need to CREATE AMAZING USER INTERFACES. CoreUI is an open source bootstrap 4 based admin template.
---
9. Light Bootstrap Dashboard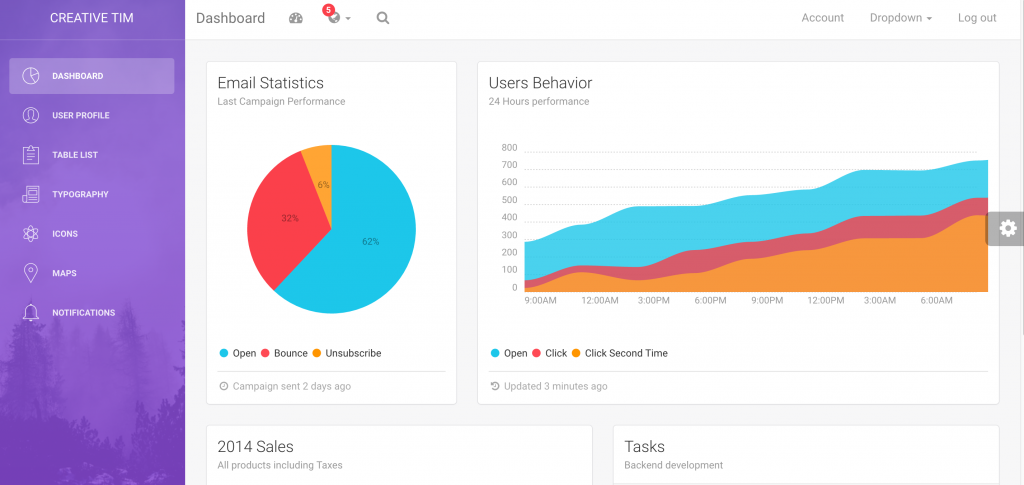 Light Bootstrap Dashboard is an admin dashboard template designed to be beautiful and simple. It is built on top of Bootstrap 3 and it is fully responsive. It comes with a big collections of elements that will offer you multiple possibilities to create the app that best fits your needs. It can be used to create admin panels, project management systems, web applications backend, CMS or CRM.
---
10. Ace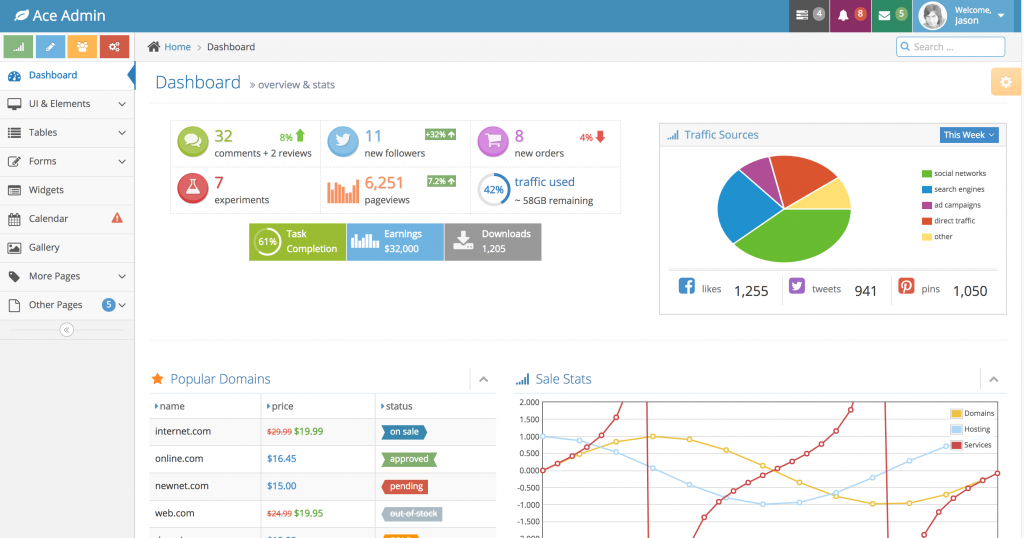 Another Bootstrap 3 admin template.
---
Try our QuickAdminPanel Generator!
How it works:
1. Generate panel online
No coding required, you just choose menu items.
2. Download code & install locally
Install with simple "composer install" and "php artisan migrate".
3. Customize anything!
We give all the code, so you can change anything after download.
---
Follow on Twitter