QuickAdmin is now available in 7 languages!
---
Povilas Korop
Founder of QuickAdminPanel
We live in a multi-cultural world with many different languages, so we felt the need to be closer to the community and make QuickAdmin available in not only English language. So there we go – it's live!
Now, when creating a new adminpanel, you can choose your language: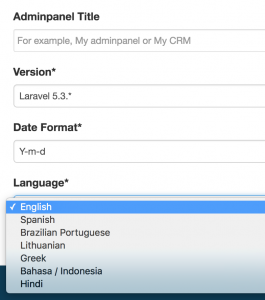 As a result, your adminpanel will greet you in your chosen language, like Spanish:

In total, we now have 7 languages – thanks to the awesome response from Twitter community!
All of them, as a reward, have received an unlimited VIP status – meaning free adminpanels to download for unlimited time. They deserve it!
Notice: Of course, there might be some translations missing, but we will try to keep an eye on them and update.
If you want to add your language, there's a public GitHub repository with languages – just take English as example, create your own folder and create a pull request.
That's all news for now, we keep improving our QuickAdmin – it's amazing that the community all over the world is ready to support us so actively!
---
Try our QuickAdminPanel Generator!
How it works:
1. Generate panel online
No coding required, you just choose menu items.
2. Download code & install locally
Install with simple "composer install" and "php artisan migrate".
3. Customize anything!
We give all the code, so you can change anything after download.
---
Follow on Twitter